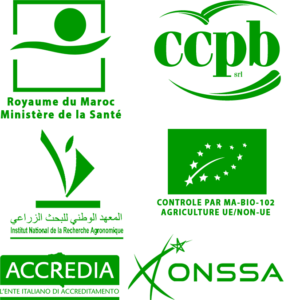 Our Certificates and Partnerships
Ministry of Health (Morocco): Certificate of cosmetics manufacturing and personal hygiene products.
The National Food Safety Office (ONSSA): Best Aloe has its own plantation registered with ONSSA as a nursery specializing in the organic cultivation of Aloe Vera since 2007.
Standard CcpB Organic Production Compliance Certificate: Our Aloe Vera plants and Aloe Vera gel are certified "organic" by CCPB srl (MA-BIO-102).
National Institute of Agricultural Research (INRA) and Cadi Ayyad University in Marrakech: Our main scientific partners to ensure the production of a natural and effective product.